Everything we publish under our ComputerWorld Canada, CIO Canada and Network World Canada brands is intended to help IT professionals achieve career success. Now our ability to assist with major application projects has taken a leap forward.
I'm pleased to officially announced our new partnership with Technology Evaluation Centres, or TEC. While based in Montreal, TEC has customers all over North American and beyond, creating the kinds of buyers' guides and RFP templates that have helped countess technology executives. They know ERP. They know business intelligence. They know customer relationship management and a lot more.
We'll be publishing excerpts of TEC guides and reports on our Web sites and in our magazines, adding related content and analysis based on what we hear through conversations with our audience. We'll also be working with TEC on entirely new products that will be unveiled in 2012. The first fruits of this agreement will include portions of TEC's recently-completed guide to human capital management (HCM) software, for which I wrote the introduction.
Full press release on our partnership is below. I look forward to giving our audience greater access to some really great content.
Technology Evaluation Centers (TEC) and IT World Canada Join Forces
Partnership between TEC and IT World Canada provides 2.5 million IT professionals with expanded portfolio of research tools and content, including software selection tools, IT market reports and business software buyer's guides.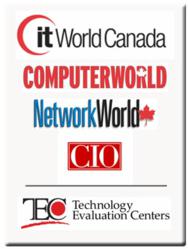 We want to offer a better understanding of the technology solutions available to help businesses solve issues and achieve their objectives.
Montreal, QC (PRWEB) August 07, 2011
Technology Evaluation Centers(TEC) and IT World Canada (ITWC), the Canadian affiliate of International Data Group (IDG), today announced an agreement to collaborate on the development and distribution of a wide range of original research materials for the IT market. The agreement covers IT market reports, business software buyer's guides, and research articles. It also provides for expanded access to software selection tools and services for the two companies' 2.5 million registered members through their Web sites, newsletters, and print publications.
Helping businesses understand IT solutions
Roy Semple, TEC's Head of Internet Marketing, explains the rationale behind the partnership: "We wanted to expand our resources to offer a better understanding of the technology solutions available to help businesses solve issues and achieve their objectives."
Reducing risk in complex decisions
"IT World Canada, with brands such as CIO, Network World, and ComputerWorld, gives us a wealth of additional expertise to create quality research on software selection issues, including the expanding influences of cloud computing, software as a service (SaaS), multinational supply chains, and the complex hardware and network choices organizations are facing."
The new content and expanded access to software selection tools will help software buyers and IT professionals evaluate, select, and implement software solutions from vendors such as SAP, Oracle, Infor, Sage, Microsoft, and others. "IT World Canada's mission has always been to help our readers do their jobs better, and TEC's valuable insights adds further credence to the information we provide," says ITWC president, Fawn Annan.
Says Semple: "IT implementation failure rates have remained stubbornly high for decades, spurring demand by buyers and IT professionals for new and more effective ways to evaluate and select business software. We're excited that both audiences will now have more ways to find the right enterprise software while reducing the risk of making the wrong choice."
About IT World Canada
ITWC has become the in-depth IT information resource of choice for Canadian IT professionals. We leverage the IT community's favorite print publications: CIO Canada, Network World Canada, ComputerWorld Canada, Computer Dealer News, and Direction Informatique consistently building on being 'anywhere, any time' with our readers. Over the years we have transformed ourselves – from a traditional print publisher to a multimedia information provider, and now a portable size magazine. IT World Canada is the Canadian affiliate of International Data Group (IDG), the world's largest IT information provider. Publishing more than 300 publications worldwide and providing IT market analysis through 85 countries worldwide, one hundred million people read one or more IDG publications each month. Newsletters, mobile editions, targeted events and in-depth editorial deliver the best view of global IT content, with a Canadian perspective.
About Technology Evaluation Centers, Inc. (TEC)
TEC helps organizations choose the best enterprise software solutions for their unique business needs—quickly, impartially, and cost-effectively. TEC's online Evaluation Centers, containing IT research and extensive knowledge bases, are the leading resource for IT decision makers around the world. By combining that information with a proven methodology, unique Web-based software selection platforms, and years of software selection expertise, TEC delivers an unmatched range of online software evaluation and selection services that bridge the gap between enterprise decision makers and the vendor/value-added reseller (VAR) community.