The week's worldwide technology news in pictures, courtesy of IDG News Services. This week: Virtual videoconferencing, the passing of an IBM leader and more bad news for RIM, this time from Adobe.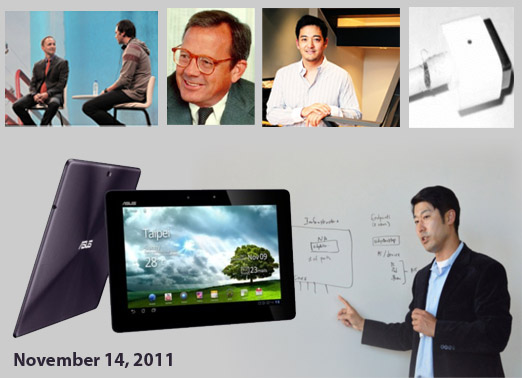 A roadmap for NetWeaver

SAP AG co-CEO Jim Hagemann Snabe and Clarke Miyasaki, global vice-president of marketing for Skullcandy, chat during the keynote of Sapphire Now in Madrid. The company announced its NetWeaver platform would get improved business process management tools and integrate with its HANA in-memory analytics.
John Opel, 1925-2011

John Opel passed away at the age of 86. He was IBM Corp.'s fifth CEO, from 1981 to 1985, after serving as president from 1974. He oversaw the launch of the System 360 mainframe, created the unit that produced the first PC, and negotiated the MS-DOS deal with Bill Gates of Microsoft
Virtual videoconferencing

Young-Sae Song, vice-president of marketing for Japanese videoconferencing vendor Vidyo, announced the company will virtualizes its server software for its VC appliance, eliminating the need for a separate router.
Samsung exec bolts for Redmond

Gavin Kim, vice-president of content and enterprise mobility at Samsung's mobile group, left the company to join Microsoft and help build its mobile line as general manager of the Windows Phone 7 group.
Apple settles MagSafe lawsuit

Apple Inc. has settled a 2009 lawsuit over its MagSafe power cables, which, in earlier designs, tended to fray and risk starting electrical fires.
A four-core Transformer

Asustek Computer announced a 10-inch tablet, the Eee Pad Transformer Prime, which will run on Nvidia's quad-core Tegra 3 processor and Android 3.2. The tablet will be priced from $500 to $600 depending on the configuration,a dn will be available in December, the company said.
Flash announcement bad news for RIM

Abode Systems Inc. announced it was dumping its Flash for mobile platform, which Apple founder Steve Jobs dismissed as too insecure and power-hungry to support on the company's mobile devices. Unfortunately, Flash support was a key differentiator for the PlayBook, Research in Motion's tablet effort.
❮
❯