Worldwide technology news in pictures. This week: A different way of remembering Steve Jobs, a Canadian network equipment company rebuffs a takeover and get ready for Wi-Fi speeds to triple.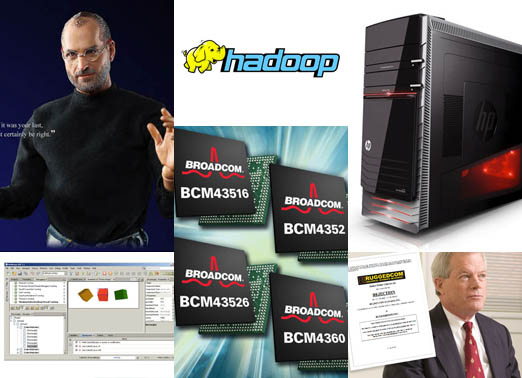 What a doll

A 1:6 scale replica of the late Apple Inc. CEO Steve Jobs, including the intimidating arched eyebrows, is set to be released in February, inicons.com announced. The US$99 action figure will be clad in his trademark turtleneck, jeans, and New Balance sneakers. It will not come with a mini iPad.
A big deal for big data

After nearly seven years of development, version 1.0 of the Apache Hadoop data processing framework is finally ready for full production use, the developers of the software announced. Hadoop can be used to store and analyze large data sets too big for traditional relational databases
HP's Phoenix rises

In advance of this week's Consumer Electronics Show in Las Vegas, Hewlett-Packard Co. trumpeted its most powerful PC, the water-cooled HPE Phoenix. It is powered by an Intel i7-2600 3.4 GHz processor, can have up to 16GB of DD3 memory and includes Wi-Fi and three internal hard drive bays.
Another leap in Wi-Fi

Also in Las Vegas, Broadcom Corp.said it will show off at CES four Wi-Fi chips that can take advantage of the soon-to-be ratified 802.11ac standard, which promise wireless LAN speeds of up to 1 Gbps. That would be about three times as fast as 802.11n WLANs. Products using the draft 802.11ac standard might start appearing this summer.
More beans from Oracle

Oracle released version 7.1 of Netbeans Java IDE, used to create Java applications for desktops, servers, and for the Web. It also can be used to create applications in PHP and C/C++ and other JVM languages. The new version updates the tools and libraries so they can be used to build more sophisticated user interfaces.
RuggedCom, Belden in standoff

RuggedCom chairman Peter Crombie said the Ontario-based maker of networking equipment for harsh environments has recommended shareholders reject a $280 million unsolicited offer from U.S. competitor Belden Inc. as insufficient. For its part, Belden said it won't go higher than its $22 a share offer, which expires Jan. 25.
❮
❯