Our weekly roundup of worldwide technology news in pictures, courtesy of IDG News Services. This week: Megaupload is taken to court, Facebook files another lawsuit, Toshiba launches an e-reader, RIM finds itself a new CEO and more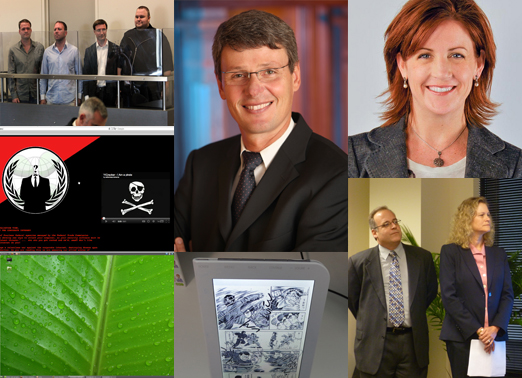 Megaupload defendants in court

Just before the week began on Sunday, founder Kim Dotcom, chief marketing officer Finn Batato, chief technical officer Mathias Ortmann and programmer Bram van der Kolk, representing file-sharing site, Megaupload.com, appeared in court. The four were arrested by New Zealand Police by request of the U.S. Department of Justice. Later in the week, Dotcom was found a flight risk and his bail was denied.
New CEO announced at Research in Motion

After many hardships and mis-steps, co-CEOs at RIM, Mike Lazardidis and Jim Balsillie stepped down and former chief operating officer, Thorsten Heins was named as their singular successor. Lazaridis and Balsillie also quit as co-chairmen of RIM's board of directors and Barbara Stymiest assumed that role.
After SOPA protests, analyst says don't underestimate the Web

Since last week's successful SOPA and PIPA protests, legislation which would have fundamentally changed copyright laws on the internet, Maura Corbett, president of the Glen Echo Group, reinforced the fact that citizens of the web should not be underestimated. "People are fed up. Washington is broken, and now Washington wants to subject the Internet to it? The Internet said no."
U.S. government online security site gets hacked

In a cheeky bit of irony, hackers flying the AntiSec banner managed to hack OnGuardOnline.gov, the U.S. federal government's online security site, as part of a protest for SOPA and PIPA. Their message? That this would not be the last government site hacked if SOPA or PIPA were allowed to pass.
Toshiba announces first e-reader debut in Japan

Arriving at the party a little late, Toshiba just announced its first e-reader device will be launched in February in Japan. The BookPlace will be supported by a 100,000-title-strong online store and Toshiba are still trying to decide whether it will launch the device in North America.
Linux Mint returns to its classic interface

In a bit of open source news, Linux Mint's new Cinnamon interface looks a lot like the familiar classic desktop version of Mint. A control panel has been added to both the top and bottom of the desktop and familiar features have been restored.
Facebook and Washington sue ad scammer

Facebook's lawyers (pictured) have got together with the attorney general in Washington to bring two new lawsuits against Adscend Media, a company that has been making US$20 million a year by utilizing a Facebook scam. The scam involved a risqué video which, when clicked on, shared itself with that users entire friend list. Each of those subsequent clicks netted Adscend Media advertising dollars.
❮
❯