The week's worldwide technology news in pictures, courtesy of IDG News Service. This week: The horde descends on CES 2012, giving your TV Android brain power, and a Canadian tablet maker targets India.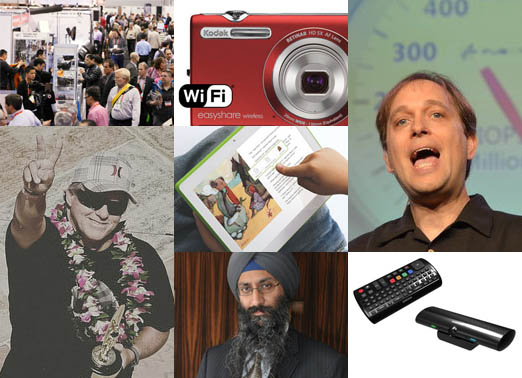 CES 2012

In an annual January ritual, 150,000 gadget-lovers descended in Las Vegas for the Consumer Electronics Show. Among other debuts was the release of the world's most frustrating video game, in which competitors try to hail a cab in Vegas during the Consumer Electronics Show.
If you can't beat 'em, sue 'em

Kodak has launched the EasyShare M750, which allows users to upload images to Facebook by pairing the camera with a smartphone. At the same time it is suing Apple and HTC for infringing on patents related to technology for transmitting images.
Making TV smarter

Samsung will launch a smart TV converter kit in April 2012, offering Skype connectivity and a limited number of Android apps.
One tablet per child

One Laptop Per Child's XO-3 tablet is targeted at children in developing countries. The tablet has an 8-inch full colour screen. The nonprofit is starting a project that will gather data on how the tablet is used as a learning tool.
How fast is fast enough?

Fusion-io CEO David Flynn during a demonstrated the company's Auto Commit Memory technology at the Demo Enterprise event in San Francisco. The demonstration showed a set of eight servers achieving 1 billion IOPS performance.

He let them know when the surf was up

Surfers around the world honoured Surfline founder and president Sean Collins, who died December 26 from a sudden heart attack. The online service distributes surfing forecasts through Web sites and mobile applications.

Canadian company to make a splash in India

Suneet Singh Tuli, CEO of DataWind, holding the Canadian company's $50 tablet. DataWind is targeting sales of about 6 million units of its low-cost tablet in India this year, but it has to arrange additional manufacturing capacity and strengthen its support network to meet an unexpected surge in demand.
❮
❯