The week's worldwide technology news in pictures, courtesy of IDG News Service. This week: a cancelled keynote, a bargain tablet from a Canadian company and the passing of a visionary.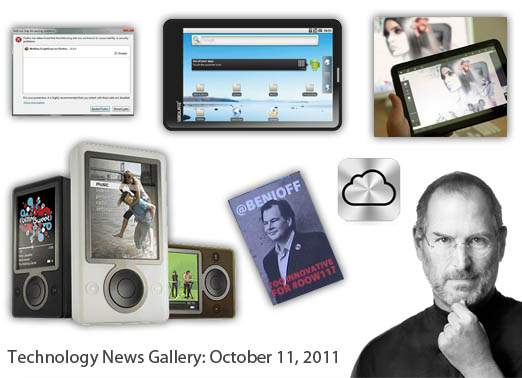 Apple in the cloud

While it wasn't the rumoured iPhone 5 announcement, Apple's Phil Schiller announced the availability of the iCloud, a set of services to store content and push it to multiple devices, as of Oct. 12.
Steve Jobs: 1955-2011

The day after the announcement, the visionary behind Apple's incredible comeback story, Steve Jobs, passes away after a long battle with cancer.
Why did Oracle kill Benioff's keynote?

"Larry (Ellison, Oracle CEO) just cancelled my keynote tomorrow!" tweeted Salesforce.com CEO Marc Benioff, prompting protests at Oracle's OpenWorld user conference. Benioff rescheduled his keynote at a nearby restaurant.
Made in Canada

The Indian government launched Aakash, its much-touted $35, seven-inch tablet. The device is made by Montreal-based DataWind.
Zune no more

Microsoft announced it won't be making its Zune music player anymore, focusing instead on the Windows Phone OS and devices. Zune services will live on in the form of a Windows Phone app.
The Creative Cloud

Adobe launched its Creative Cloud, a collection of tools and services that brings together its Creative Suite software with tablet apps and collaboration tools, at its MAX 2011 conference.
Heads up

Electronics companies gathered to show their new wares at Ceatec in Chiba, Japan. Among them: Pioneer's AR HUD, which shows augmented reality information on a heads-up display for drivers.
The irony plug-in

Web browser Firefox is advising users to disable a McAfee security plug-in, saying it could cause "stability or security problems."
❮
❯