Worldwide technology news in pictures, courtesy of IDG News Service. This week: Samsung works around a Galaxy ban, opposition to the Stop Online Piracy Act and a robot ostrich. Serious, a robot ostrich.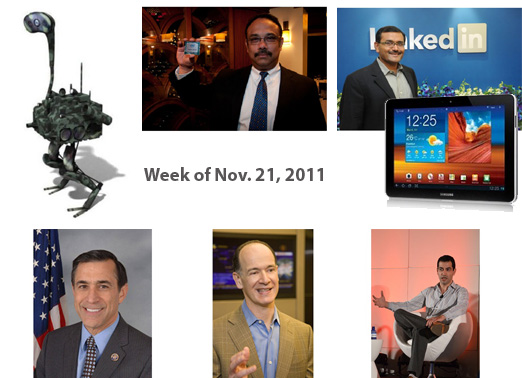 Think (a little) different

German retailer Cyberport.de is advertising Samsung's updated tablet, the Galaxy Tab 10.1N. Samsung hopes that subtle changes to the tablet's design, including the appearance of small speaker grills on a thicker silver bezel, will allow it to get around a ban on sales of the original Galaxy Tab 10.1 in Germany, where a court ruled the design of the original Tab too similar to that of Apple's iPad 2.
Moving toward Exabyte computing

Raj Hazra, general manager of Intel's Technical Computing Group, showed the chipmaker's 50-core Knights Corner processor for the first time at the SC11 supercomputing conference in Seattle.
Opposition to SOPA rallies

California Republican representative Darrell Issa says the Stop Online Piracy Act could significantly damage the U.S. Internet market. Canadian Web sites have good reason to fear the legislation, too, since it would affect ISPs in Canada and 20 Caribbean nations.
LinkedIndia

LinkedIn has set up a technology centre in Bangalore, India, that will have 30 on staff by the end of the year, and may one day be as large as the 300-person operation at its headquarters in Mountain View, Calif, said senior vice-president Deep Nishar.
Making mobile money

Daniel Danker, general manager of Programmes and On-Demand at BBCi, spoke earlier this month at the Open Mobile Summit in San Francisco. As mobile video finally starts to take off, making money from it remains a challenge, the conference was told, and content providers and carriers may clash over economics before they find a way to share the costs and benefits.
Guns blazing at 50 mph

The U.S. Defense Advanced Research Projects Agency (DARPA) plans on building a military robotic ostrich that can reach speeds of 50 mph. The joint project between the Florida Institute for Human and Machine Cognition (IHMC) and MIT hopes to reproduce all of the ostrich's abilities into the fastest-running robot ever built.
Huawei buys out Symantec

Huawei Technologies will buy out Symantec's part of a joint venture to integrate Symantec storage and security software into appliances built with Huawei's telecommunications equipment expertise. The companies held extensive discussions and decided it would be best to consolidate the venture under one owner, said Symantec CEO Enrique Salem.
Embedded preview in early 2012

Developers will get a preview of Microsoft's Windows 8 Embedded in the first quarter of next year, with plans to eventually release its embedded computing products in the quarters following the Windows 8 desktop version, said Ben Smith, director of program management for Microsoft's Windows Embedded business.
❮
❯