Our weekly roundup of worldwide technology news in pictures, courtesy of IDG News Services and ViaSat Corp. This week: RIM's new tools for app creation, NEC shows off a wearable computer, a look at the satellite that will beam 4G service to rural areas, and more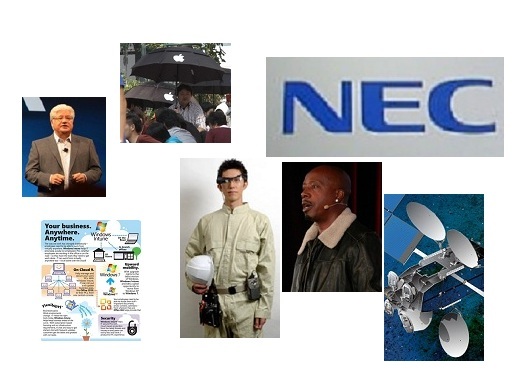 Here comes BBX

At its annual DevCon Americas conference in San Francisco, Research In Motion co-chair Mike Lazaridis tried to put last week's service disruption behind it by releasing new tools to help software developers create applications for its next-generation BBX operating system. To compensate BlackBerry and PlayBook users for the four days of service problems RIM is also making some apps it sells available for free.
iPhone 4S sales are hot

Hundreds lined up in Tokyo to purchase the new iPhone 4S when it went on sale. At the Apple store in Shibuya, employees handed out umbrellas and water to keep customers cool. The handset is so popular that some Apple stores and carriers have run out of stock.
Keeping on top with Intune

Microsoft announced it has expanded the number of capabilities of its hosted Intune Windows 7 management service for small and medium businesses. The latest version gives more information and the ability to install software remotely to a large number of PCs.
It keeps going and going….

NEC said it has developed a new lithium-ion battery technology that doubles the life of existing power sources. The new technology will be used in large batteries for applications such as electrical power systems in buildings and homes, where longevity is a major concern, the Tokyo-based electronics conglomerate said.
Not a fashion statement

NEC also said it will sell a wearable mini computer with a head-mounted display that projects its screen to a user's eye. Initially aimed at factory workers and other industrial settings, the Tele Scouter is about the size of a thick paperback and can be worn clipped on a belt, while the display is mounted to a pair of clear glasses so it can be viewed alongside the real world.
Get Hammered

Rapper MC Hammer told the Web 2.0 conference he's backing a new search engine called WireDoo. Still in the very early stages of development, if successful it would display related information to a search by existing search engines.
Coming soon from outer space

New Brunswick's Xplornet Communications breathed a sigh of relief when ViaSat-1 was successfully launched into low Earth orbit. The service provider has bought capacity on the bird to bring 4G Internet service to rural Canadians by the end of the year.
Lorem Ipsum
Lorem Ipsum
❮
❯