HTML 5-based
Our new mobile Web site, m.itworldcanada.com, features an HTML 5-based responsive design, built for social sharing and commenting across the full range of devices you use to access the Internet.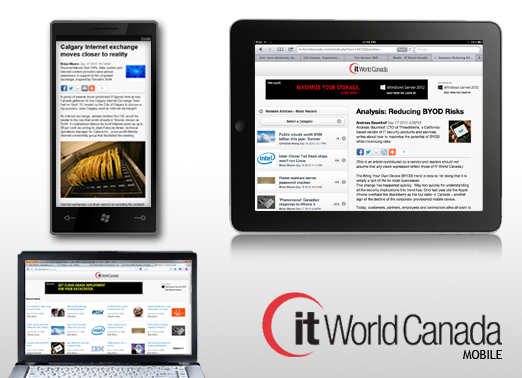 Cross-platform commenting
The comments you make on stories thread across the mobile and the desktop site — comments made on one appear on the other. Start a conversation on your phone, finish it on your PC.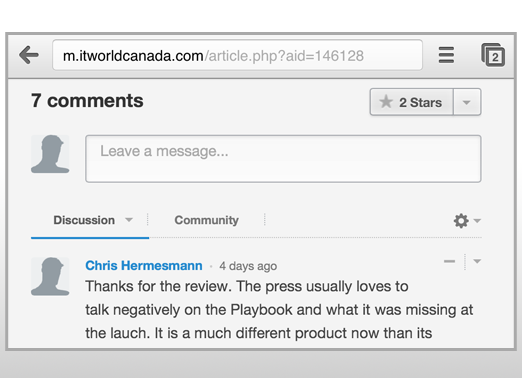 Looks great on tablets
IT World Canada's mobile site is optimized to render on a tablet, whether in landscape or portrait mode. Browsing on your tablet is easy and intuitive.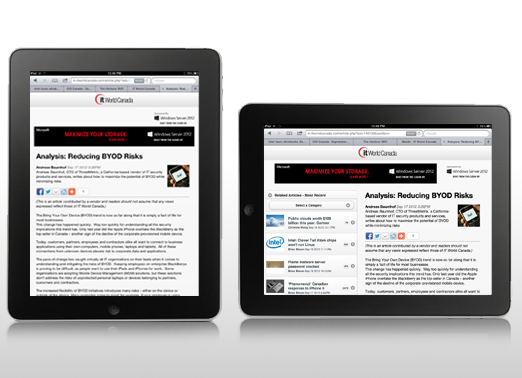 Any device
The new mobile site adapts to the screen size of the device you're using to access the Web. A "smart" second column moves to the bottom of the page if the screen is to narrow, making it perfect for PCs, tablets and mobile phones. That's responsive design in action.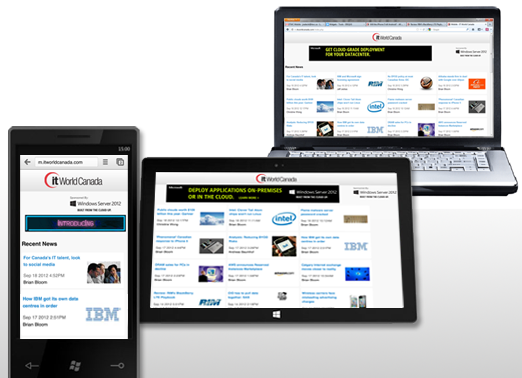 Optimized for sharing
IT World Canada's mobile site makes it easy to share compelling content with others in your social networks. A single click lets you post links to Facebook, Twitter, LinkedIn and other social sites, and there's easy access to follow IT World Canada's social media accounts.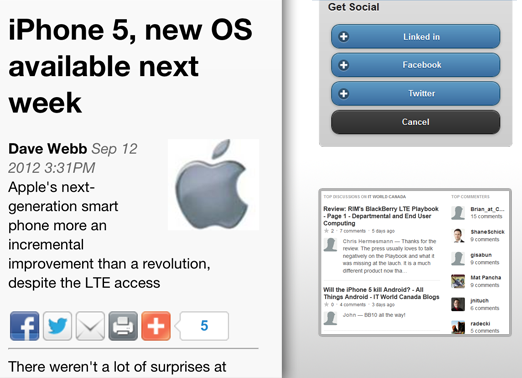 Check out our mobile site today
Visit m.itworldcanada today on your smart phone, tablet or PC, and experience cutting-edge mobile Web design in action. Coming features will include mobile blogs, touch page swiping and extended video integration.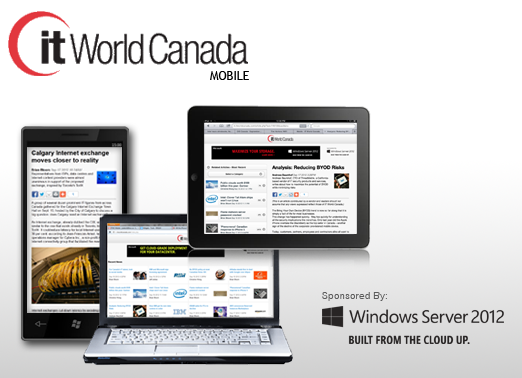 Thanks for taking the time to let us know what you think of this article!
We'd love to hear your opinion about this or any other story you read in our publication.

Jim Love, Chief Content Officer, IT World Canada
Our experienced team of journalists and bloggers bring you engaging in-depth interviews, videos and content targeted to IT professionals and line-of-business executives.