Worldwide technology news in pictures. This week. Bell division hammered by regulator, Oracle stung by U.S. university and IBM bows to EU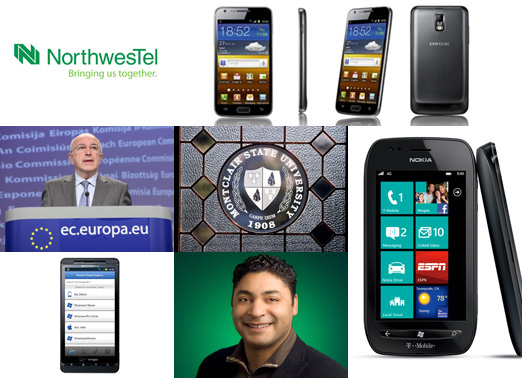 Northwestel stung by CRTC

The Canadian Radio-television and Telecomunications Commission (CRTC) has taken away Northwestel's monopoly on providing local phone service in the north. "Many communities have been plagued by service outages and certain features are not widely available to customers," said vice-chair Leonard Katz, pictured. "Northern residents deserve to have access to reliable and high-quality services comparable to those offered in the rest of the country."
Google cashes out Checkout

Google's Osama Bedier, the company's payments vice president, explained why it will merge its new Wallet electronic payment service with the older one called Checkout. "Our goal is a wallet that works on every computer, on every mobile phone and on every terminal in the world."
University files more claims in Oracle lawsuit

Montclair State University has expanded its lawsuit against Oracle Corp. over a troubled ERP project at the New Jersey institution. The latest allegation is that Oracle made an array of "intentionally false statements" regarding the functionality of its base ERP system, the amount of customization that would be required, and the amount of "time, resources, and personnel that the University would have to devote." Oracle has said the university was to blame for the project's woes. (Photo: Montclair University)
Windows 7 phones to debut

T-Mobile announced that on Jan. 11 it will become the first U.S. wireless carrier to sell a Nokia Windows 7-powered handset, the Lumia 710. A low-end smartphone with a 3.7-inc. display that is already available in other parts of the world, will cost US$50 after a $50 mail-in rebate and with a two-year contract. There's no word yet on availability in Canada
Big Blue squeezed by EU

IBM has made legally binding concessions to European Union regulators in order to avoid a fine for anticompetitive practices. There were concerns the manufacturer was hindering the access of independent maintenance service providers to critical spare parts. EU competition commissioner Joaquin Almunia, pictured, said he was pleased at the solution.
Android search gets Wyse

Wyse Technology has launched an Android app that lets people search remotely for files on their PCs and laptops, then download them, copy them, or send them to another person, all from inside the app. Called PocketCloud Explore, it helps people who have multiple computers and can't always remember on which machine they stored something. But it can't search Apple's iPhone or iPad devices.
The future of LTE handsets

Now that LTE-enabled handsets like this Samsung Galaxy II S LTE are in Canada, get ready for a new wave of devices in 2012. Industry analysts said we'll see handsets with quad core processors, higher resolution screens and, maybe, units with VoLTE (Voice over LTE), which will be true 4G phones.
❮
❯