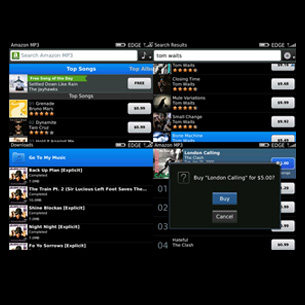 Amazon MP3 for BlackBerry
Amazon MP3 for BlackBerry: The latest, possibly greatest, and certainly my favourite, online music store for BlackBerry smart phones is a must have for all mobile media enthusiasts. With simple navigation and a clean user interface, Amazon MP3 for BlackBerry makes it easy to find and purchase the songs and albums that you seek, over Wi-Fi or your cellular network – no 3G required. Free "Songs of the Day" mean you can frequently download new music without ever dropping a dime. And "Daily Deal Albums" are always available for $5 or less. Download Amazon MP3 via BlackBerry App World.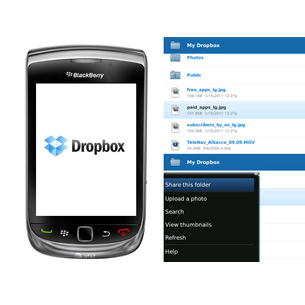 Dropbox for BlackBerry
Dropbox for BlackBerry: Dropbox is a cloud-based storage service that makes it quick and easy to share files between Web-connected devices, including PCs, tablets and smartphones. Dropbox apps exists for all major mobile platforms, and you get 2.0 GB of free storage just for creating an account – more if you recommend the service to others. You simply load up your Dropbox with content, launch the BlackBerry app and everything within your dropbox is available to you via smart phone. You can also upload new content from your smart phone. Download via Dropbox.com.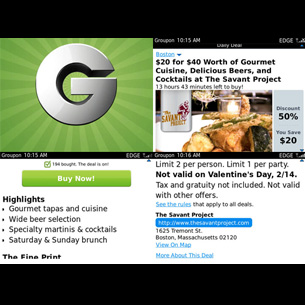 Groupon for BlackBerry
Groupon for BlackBerry: Online service Groupon serves up daily deals on dining, entertainment, shopping and more, based on your location. The free Groupon for BlackBerry makes finding and purchasing "Groupons" as easy as opening up a smartphone application. You save your payment card information, surf the available deals at a given time and just hit "Buy Now" to complete a purchase. Best of all, Groupon guarantees your satisfaction; the company will refund your money if you're ever let down with a particular Groupon. Download Groupon via BlackBerry App World.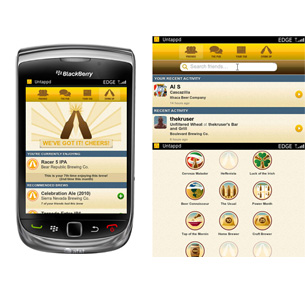 Untappd
Untappd: You've heard of Twitter and Facebook, where you post the mundane details of daily life online. You've seen Foursquare, which lets you share your location with others. But you may not have been introduced to one of the latest social networking crazes, Untappd, a mobile-based service for beer drinkers to share and discuss their various brews of choice. Find new beers and breweries, connect with other likeminded drinkers and earn tons of creative badges for your troubles. You'll never drink alone again. Cheers. (Note: Untappd is a browser-based Web app, and it works on iOS, Android and other mobile platforms, as well.) Download Untappd via your mobile browser at m.untappd.com/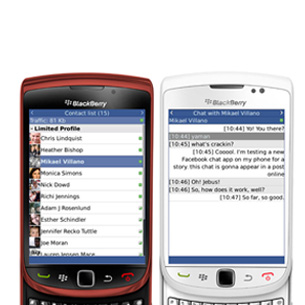 Chat for Facebook Free
Chat for Facebook Free for BlackBerry: Facebook for BlackBerry is one of the most popular free BlackBerry apps available today, but it's missing one very important feature: Facebook chat functionality. Thankfully, crafty third-party developers have stepped in to fill the gap. Paid apps with more functionality can be found on BlackBerry App World, but Chat for Facebook Free gets the job done — and the price is right. Just launch the app, select and online contact and you'll be Facebook-chatting in no time. The app also has alerts and a blue LED flash to let you know when a message is received. Download Chat for Facebook Free via BlackBerry App World.
View the next slideshow: The five biggest stories from CES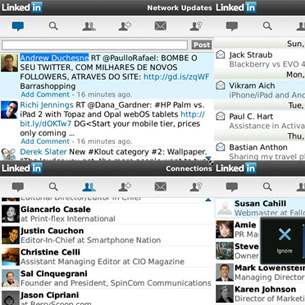 LinkedIn for BlackBerry
LinkedIn for BlackBerry: Okay, so this mobile application isn't exactly new. But I haven't recommended it before. And with the introduction of RIM's new, official "BlackBerry for Business" LinkedIn Group, the app has become a must-have for all BlackBerry-toting LinkedIn-ers. View all your connections and updates, search your network, view and accept new connection-invites, send and receive messages and find recommended connections based on your network, all via BlackBerry. Download LinkedIn via BlackBerry App World or LinkedIn.com.
View the next slideshow: The five biggest stories from CES
❮
❯