Many CEOs make the big bucks, but when you're the top exec of a technology giant and can exercise stock options, your wealth can reach the stratosphere. Led by a couple of guys named Larry, each of these eight tech CEOs has a net worth that will make your head spin.
By Shane O'Neill – CIO.com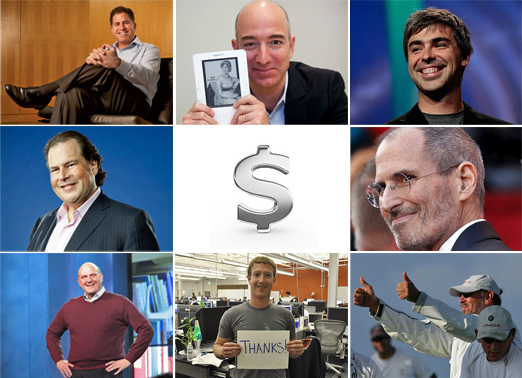 Larry Ellison, CEO of Oracle

Net worth: $39.5 billion.
Befitting his legendary ego, Oracle founder and CEO Larry Ellison has the biggest fortune among tech CEOs. The dapper yachtman's massive net worth grew by $11.5 billion last year as Oracle's shares jumped 30 percent, according to Forbes. Oracle also won a $1.3 billion copyright infringement case against SAP, and has been profiting from acquisitions, most notably Sun. Ellison also has a 52 percent stake in software company NetSuite. It all adds up to one insanely rich dude. And he's got the Asian-inspired estate to prove it, along with several sail boats, private jets and exotic sports cars.
Larry Page, CEO of Google

Net worth: $19.8 billion.
Google co-founder and CEO Larry Page doesn't flash his wealth like Ellison, but with a $19.8 billion fortune, he could afford to buy a yacht or two. Google's stock increased by 18 percent last year, pushing Page's net worth up by $5.5 billion. Internet search is still Google's cash cow, but its Android mobile OS has taken the mobile world by storm. Page, an engineer by nature, recently took back the CEO role (a job he had 10 years ago) from the more business-minded Eric Schmidt. All eyes will be on Page to see if he can keep Google dominant.
Jeff Bezos, CEO of Amazon

Net worth: $18 billion.
Amazon founder and CEO Jeff Bezos also had a great year, adding a cool $5.8 billion to his net worth as Amazon's stock jumped 50 percent in 2010. Bezos, who founded Amazon.com in 1994 and didn't turn a profit until 2001, has out-innovated the competition by evolving Amazon from an online bookseller to the world's largest online retailer for basically anything you want. Amazon also makes the popular Kindle e-reader, provides a music and movie streaming service, and allows companies to rent IT infrastructure services through Amazon's cloud platform.
Michael Dell, CEO of Dell

Net worth: $14.6 billion.
Dell founder and CEO Michael Dell's net worth saw a slight boost of $1.1 billion last year as Dell increased its revenue by 5 percent after a few bad years. Since returning as CEO in 2007 to turn around a slumping company, Dell restructured his company's divisions, hired new management and continued to push an array of Dell products in the traditional PC space as well as the smartphone and tablet spaces. In late 2009, Dell paid $3.9 billion for Perot Systems (Perot as in Ross Perot) to enhance Dell's IT services portfolio.
Steve Ballmer, CEO of Microsoft

Net worth: $14.5 billion.
Microsoft CEO Steve Ballmer, often lampooned for his excitable manner, does produce solid financial results. His net worth increased $3.5 billion during the last year, mostly as a result of selling a boatload of Microsoft shares (allegedly for personal and tax reasons) and Ballmer keeps Microsoft moving on many fronts: Bing, Xbox Kinect, Windows 7. However, Microsoft has lagged behind smartphone and tablet rivals, and Ballmer was punished for that, getting only half his potential 2010 bonus. But as a 31-year Microsoft veteran, Ballmer is the ultimate company man and his loyalty has ensured him gobs of money.
Mark Zuckerberg, CEO of Facebook

Net worth: $13.5 billion.
Mark Zuckerberg, the 26-year-old founder and CEO of the ubiquitous Facebook, has seen his net worth surge as investments from firms like Goldman Sachs helped lift Facebook's valuation to $50 billion. As for concrete revenue, Facebook raked in $1.86 billion in 2010 from the ads that appear on the right side of pages. That's an 86 percent increase over the previous year. For 2011, ad revenue is predicted to double to $4 billion, putting young Mr. Zuckerberg in a financial spot anyone would love.
Steve Jobs, CEO of Apple

Net worth: $8.3 billion.
Apple CEO and co-founder Steve Jobs operates as both creative guru and shrewd businessman. During the past decade, Apple products have transformed the PC, music, mobile and tablet industries and won the company a cult-like army of fans. The majority of revenue comes from music distribution and mobile devices (iPhone and iPad). In the past year, Apple shares have jumped by 80 percent and last May Apple topped Microsoft as the most valuable tech company. But only half of Jobs' fortune comes from Apple. As Disney's largest shareholder, he owns about $4.4 billion in Disney stock.
Marc Benioff, CEO of Salesforce.com

Net worth: $2.1 billion.
Marc Benioff started Salesforce.com in 1999 with the goal of putting traditional business software on the Web, giving enterprises more flexibility at a lower price. His battle cry "the end of software" turned the industry on its head and opened the doors for the Web-based SaaS products we see today from Google and others. Salesforce.com stock has doubled in the past year as revenues grew by 27 percent to $1.6 billion. Benioff and company expect to surpass the $2 billion revenue mark in the next fiscal year. Benioff doesn't keep it all in the family though: He's made large charitable donations a priority.
❮
❯