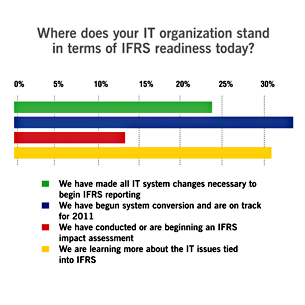 1. The State of IFRS Readiness
Although most organizations have known about the IFRS deadline of Jan. 1, 2011 for some time, we thought it important to do a check-in on where IT departments sat in terms of preparing their platforms for conversion. Canadian IT organizations appear to be relatively evenly split between those who have IFRS under control and those who are in the early planning stages. However Mahmoud Safavi, senior manager of KPMG's performance and technology practice, said some of the results may have to be taken with a grain of salt.
"What do they actually mean by 'on track?'" he wondered, citing the 42 per cent who said they have begun system conversion. "If they are really on track, have they determined a strategy, or have they done the design and are going to change the systems for recording purposes. If that's the case, I agree with the result."
It's also worth pointing out that 39 per cent are still simply learning about the IT issues around IFRS, and even fewer are actually conducting impact assessments. Even as time is running out, a large portion of Canadian firms are falling behind.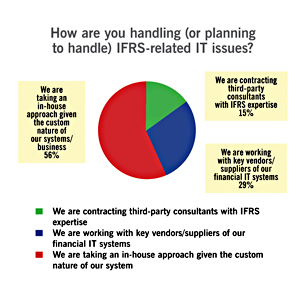 2. Going IT alone
On most major initiatives – including compliance with security controls, new legislation such as Sarbanes-Oxley or Basel II – IT departments have gladly accepted third-party expertise. Not with IFRS.
As Safavi and others have told CIO Canada, the real impact of IFRS can vary considerably from one organization to another. Consulting firms are trying to meet this need by highlighting vertical-specific issues around oil and gas, for example, compared to pharmaceutical companies. It's also possible that more IT departments will turn to third parties as they get a better sense of what IFRS conversion will involve.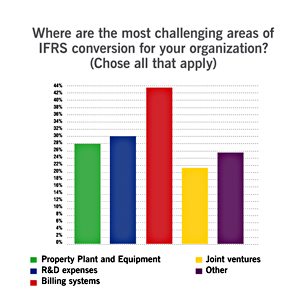 3. The toughest pieces of IFRS data
IFRS-based statements include things such as receivables, property and inventory, all of which may be interpreted or treated differently than they were under GAAP. The following is a snapshot of where IT managers see the biggest concerns.
The fact that billing came up on top surprised Safavi, who suggested it might reflect a lack of awareness among some technology professionals. "Billing should be based on transactional agreements. That should not change through IFRS," he said. "The treating of revenue and invoice should be almost the same, although it does depend on the industry." Many respondents chose "other" for this question, confessing that they did not yet know what the biggest challenge would be. Others cited items such as "configuration of financial system," "core insurance application," "foreign exchange" and several others.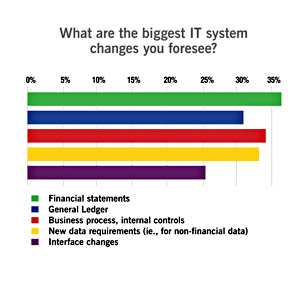 4. Changes to IT systems on the way
Although financial statements will obviously be the most affected of the financial IT components, technology professionals identified business processes as a major item. This was interesting in light of the response to a question later in the survey, IFRS may be putting the breaks on other business process initiatives.
"Organizations with a transformation of some kind in place, such as ERP, have considered all the requirements," Safavi said. "For those organizations without a large transformation project, some of them have determined their strategy – they have made decisions that in 2010, they are not going to change their systems. Instead, they will report for Canadian GAAP and do top-side adjustments for IFRS. January 1, they will capture transactions on IFRS. For those organizations they may have designed the changes, but not really executed."
It was expected that many organizations would have to essentially maintain two sets of books as conversion to IFRS got underway. The concerns around the changes were reflected in the 42 per cent of respondents who cited new data requirements, including those for non-financial data, as an area of pressure for IT departments.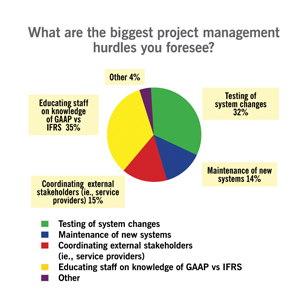 5. Managing the project
IT professionals are always worried about the things they don't know that "they don't know what they don't know." This is particularly true around IFRS, where the biggest project management hurdle mentioned was education.
"Knowledge transfer has always been a big challenge," said Safavi. "IFRS brings uncertainties around a lot of things. It's completely different than what IT requires. Typically IT managers need to know requirements so that they can translate them into IT language, and then the systems and process people can build and configure around those requirements." In this case, requirements definition may be considerably more complex, and will require greater communication between IT and finance department staff, among others.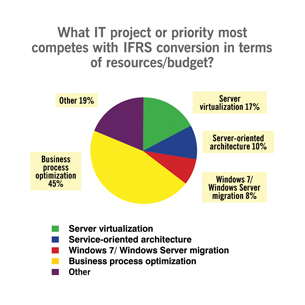 6. Competing for IT resources
IT departments always have a lot going on, but the business process requirements around IFRS could take away from similar efforts in other parts of the enterprise.
"IFRS requires not only accounting but business analyst types of people," Safavi said. "These are the same people that would be used for BPO projects. They would have to translate it to IT language and make sure the functions are utilized appropriately."
Under "other," a few respondents cited "new policy systems," "revenue-generating products" and several simply said "all of the above."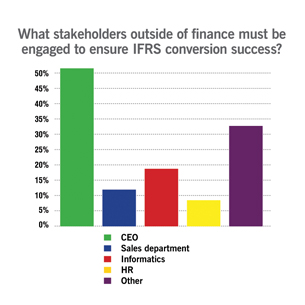 7. A full-team approach
Ask any CIO and they will tell you that nothing gets done without executive support, usually from the CEO or senior management team. IFRS requires a similar champion, our survey respondents said, but that was far from the only stakeholder required.
Of the 41 per cent who chose "other" for this question, the responses included staff from operations, auditors, joint venture partners, administration, actuarial staff, and various lines of business managers. Several IT professionals simply said "all departments" will have to somehow be involved in IFRS.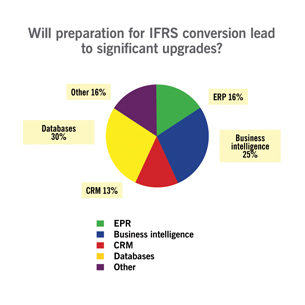 Here come the upgrades
Although they may be opting for a more in-house approach so far, many Canadian CIOs will not be able to get out of IFRS without spending some money. Although there was some variation here, databases and business intelligence emerged as the biggest areas for increased investment.
Safavi said "business intelligence" can be interpreted differently across companies, but he agreed with the result. "A lot of organizations understand the reporting aspect of their external reports, which is clearly going to be impacted by IFRS," he said. "The key performance indicators of the organization, the impact on the management reporting – all that is covered by BI."
Of the 16 per cent who chose "other," a number of them cited data warehouses and billing and reporting systems, but several said "none."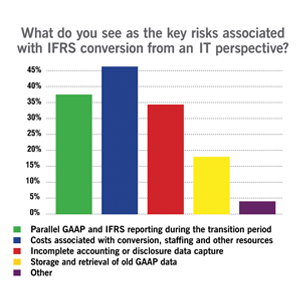 9. Costs and other risks
All major change in technology involves a degree of risk, and IFRS is no different. As mentioned previously, the notion of keeping two sets of books running at once was the second-greatest concern, following only costs and resources. Interestingly, storage and retrieval of legacy information did not pose a big threat to most IT professionals, but the potential for an increased error rate certainly did.
Only four per cent of those surveyed chose "other" for the question of risks. All of them confessed they did not know what the biggest risks will be.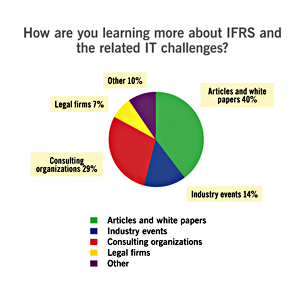 10. How the IT department is educating itself
As the previous points illustrate, IT professionals will have to learn a lot more about IFRS in the next six months and extend their expertise to other parts of the enterprise. Here are their primary sources of information.
In addition to this research report, IT World Canada will continue to cover the conversion to IFRS among IT departments across the country and develop additional resources based on market demands
View the previous slideshow: Teardown: Research in Motion's co-CEOs
❮
❯