DeveloperConnect 2015
Join IBM for DeveloperConnect 2015 in Markham, Ontario on April 14 to learn what others are doing to thrive in the changing IT world. With discussions centred on delivering content through multiple channels with a mobile-first focus, you'll gain insights into what that means for connecting to legacy systems, the Internet of Things and the Cloud.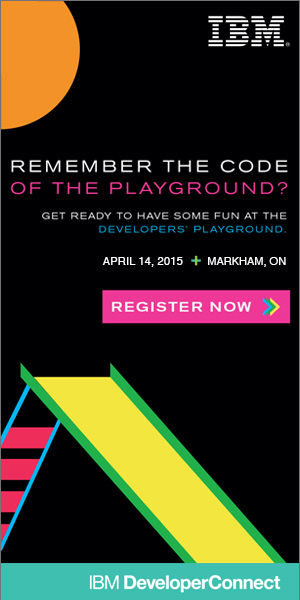 Participate in either Lightning Talks or Hands-on Labs. Gain insights that will help you with system integration, cloud challenges, new product development and more.
The DeveloperConnect experience includes lightning talks, hands-on labs, live demos, and one-on-one sessions with experts.
Agenda:
| | |
| --- | --- |
| 8:30am — 9:00am | Registration |
| 9:00am — 12:00pm | Lightning Talks or Hands-on Labs |
| 12:00pm — 1:00pm | Lunch |
| 1:00pm — 3:00pm | Lightning Talks or Hands-on Labs |
TOPICS: Lightning Talks
The App Explosion: What does it mean for developers?
Practical DevOps in a Hybrid World
Building Next Gen Applications and Microservices
Myth: You need to re-factor all of your applications to move to cloud
Overview and Strategy to Build, Deploy and Continuously Improve Mobile Apps
Shift Left to better business results: Deliver quality software continuously
Let's talk! Tell us what you want to discuss and learn about. On the day of the event Tweet your topics to @Dev_Events and maybe we'll pick your topic.
Hands-on Labs
WebSphere Application Server Liberty Profile lab (Duration: 20 mins)
Bluemix – Android Application Boiler Plate lab (45 mins)
Bluemix – Build a Java EE Cloud Trader (45 mins)
Introduction to SoftLayer Infrastructure as a Service (IaaS) (30 mins)
Discovering DevOps with UrbanCode Deploy and Rational Test Virtualization Services (3 – 4 hours)
Cloud based Bluemix and DevOps Platform as a Service (2 – 4 hours)