Bjarne Stroustrup to discuss "The Essence of C++"
MONTREAL – September 8, 2014 – Morgan Stanley today announced that Bjarne Stroustrup, Managing Director at Morgan Stanley Technology and the creator of C++, will be visiting Montreal on October 7th, 2014 where he will hold a lecture followed by Q&A on "The Essence of C++" at Place des Arts starting at 14:30 p.m. (doors open at 14:00 – see event details on the right).
---
The lecture will be held in English and is free of charge, however advance registration is required – tickets can be ordered at www.placedesarts.com. The event is presented by Morgan Stanley in partnership with TechnoMontréal.
The talk will be of most interest to software developers and will examine the foundations of C++: what is essential; what sets C++ apart from other languages; and how the new and the old features support (or distract from) design and programming in C++. The objective is not so much to present novel features and techniques, but rather to explore how C++'s feature set supports a new and more effective design and programming style.
Developers and recruiters from Morgan Stanley's Technology & Engineering Centre in Montreal will be present on site to answer questions after the talk. We will also be giving away autographed books by Dr. Stroustrup.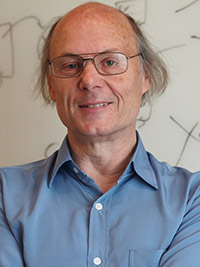 Bjarne Stroustrup is the designer and original implementer of C++ as well as the author of "The C++ Programming Language" (Fourth Edition) and "A Tour of C++" (both Addison-Wesley, 2013), "Programming: Principles and Practice using C++" (Addison-Wesley, 2014), and many popular and academic publications. Dr. Stroustrup is a Managing Director in the Technology division of Morgan Stanley in New York City as well as a visiting professor at Columbia University and a Research distinguished professor at Texas A&M University. He is a member of the US National Academy of Engineering, and IEEE Fellow and an ACM fellow. His research interests include distributed systems, design, programming techniques, software development tools, and programming languages. He is actively involved in the ISO standardization of C++. For more information about Dr. Stroustrup, visit www.stroustrup.com.
Morgan Stanley's Technology & Engineering Centre in Montreal employs more than 700 software developers, engineers and architects who develop and implement exclusive tools and applications used by the Firm's businesses across the global financial markets. In 2014, Morgan Stanley was named one of Montreal's Top Employers.
Morgan Stanley (NYSE: MS) is a leading global financial services firm providing investment banking, securities, investment management and wealth management services.  With offices in more than 43 countries, the Firm's employees serve clients worldwide including corporations, governments, institutions and individuals.  For more information about Morgan Stanley, please visit www.morganstanley.com.
TechnoMontréal is a non-profit organization whose mission is to bring together Greater Montreal's information and communication technology industry players around common objectives and concerted actions towards the goal of accelerating and optimizing the competitiveness, growth and influence of cluster members. For more information about TechnoMontréal, please visit www.technomontreal.com.