While CES 2022 may not have been the full in-person event that many had hoped for, there were still plenty of tech innovations and products introduced. And a notable theme at the show this year was robots.
As the annual trade show wraps up in Las Vegas, here is a roundup of ten robots showcased at the event.
Robotic Coffee Shop by Yummy Future
Source: Yummy Future
Yummy Future's Robotic Coffee Shop is a barista and café all in one. The robot can make a cup of coffee in less than 30 seconds and requires only one to two hours of maintenance for 24-hours of operation. 
According to the company, a robotic coffee shop can help with the labour cost issues many coffee shops experience. It also cuts wait times as it can make coffee quickly. 
It can make over 1000 different drink combinations and also has pastry shelves. The company says the Robotic Coffee Shop is "fully autonomous, precise, and intelligent" and is cloud, AI, IoT and OTA upgradable.
Samsung Bot i interactive Robot and Samsung Bot Handy
Source: Samsung
Samsung introduced two robots at CES 2022. The first one is the Samsung Bot i interactive robot that utilizes balance control technology.
It moves like a living being and makes dynamic, life-like movements. When it's near its user, it moves alongside them and offers different forms of support. When it's away from the user, it manages various tasks for them using its telepresence function.
The second robot is called the Samsung Bot Handy. This robot helps out with household chores using manipulation technology. This allows the robot to recognize objects in the home and pick them up.
Aby by Cosmos Robotics
Cosmos Robotics' robot Aby is a human-guided device designed to assist caregivers and helps save time in assisted living and skilled nursing facilities.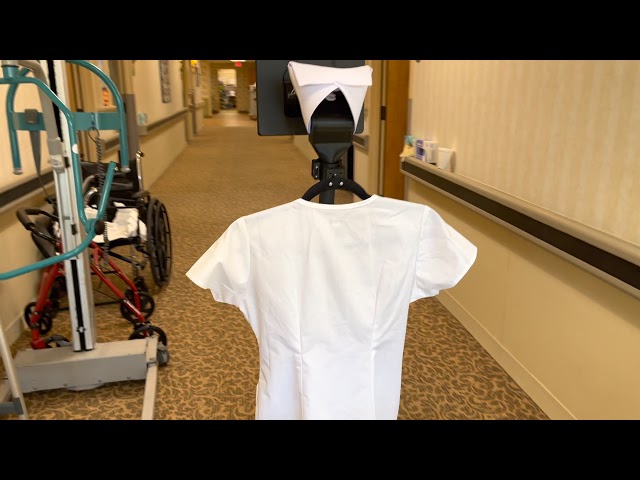 Some of Aby's features include helping attend nurse calls and providing a nighttime sitter service to monitor for wandering as well as potential falls. It can also provide automated tele-health and tele-conferencing and it integrates with other providers and devices to provide even more features.
KEENON Delivery Robots
Source: KEENON twitter
KEENON's Delivery Robot Series is designed to transform the food service industry by helping staff serve food and pick up used dishes and cups. The robots are equipped with AI technologies such as SLAM automatic positioning and navigation technology. 
This technology enables them to easily navigate a busy work environment such as in a restaurant or hotel. 
Some of KEENON's robots presented at the conference include the Delivery Robot series, Hotel Robot, Hospitality Robot and Disinfection Robot. 
UBTECH ADIBOT-A robot
Source: UBTECH Robotics
UBTECH Robotics announced the market availability of the newest addition to its portfolio of robots: The ADIBOT-A, an autonomous UV-C Disinfection Robotics Solution. 
ADIBOT-A combines proven UV-C disinfecting technology with robotics hardware and AI software to provide an efficient solution for creating clean and safe spaces.
It can be programmed and mapped with UBTECH's proprietary U-SLAM software to navigate multiple floor plans and disinfect harmful pathogens and viruses, including COVID-19. It provides 360-degree radiant light coverage, powerful UV-C disinfection, and safety features, including the use of AI-enabled risk mitigation cameras, two LiDAR systems, multiple PIR sensors and sensor-enabled safety signage.
Tando by Indoor Robotics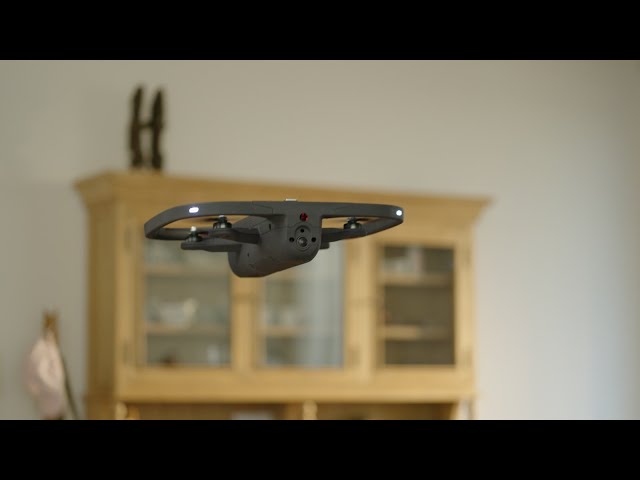 Indoor Robotics' robot Tando is a fully autonomous indoor drone fleet and AI-based platform designed for monitoring, security and safety in smart buildings, warehouses, datacentres and retail. Tando can easily integrate with existing security, operational and building management systems as well as detect and predict irregularities and hazards. It can be operated and monitored from any location.
Massage Robotics
Source: Massage Robotics
It's pretty common nowadays to see robots in food service industries and office or cleaning spaces, but Massage Robotics is bringing robots to the spa with its massage robot. The robot is designed like a massage table with an attached pair of robotic arms that are customizable with different "hand" options, providing an endless supply of massage tools and allowing for an unlimited number of massage types and therapies.
The massage robot can also pick up sound, allowing users to speak to it and be understood thanks to Natural Language Processing (NLP). They can tell the robot to move its arms in any direction and use any amount of force during a massage.
ElliQ by Intuition Robotics
Source: Intuition Robotics
Intuition Robotics' robot ElliQ is a care companion which establishes a long-term relationship with its older adult users. ElliQ projects empathy and gently encourages engagement, trust, and collaboration between the companion and the user. 
The digital companion has the ability to remember key information about its user, is able to initiate the correct action at the right time, and can express itself through multiple modalities and conversational design variants so it feels natural and familiar for the user.
Skippy by Carbon Origins
Source: Carbon Origins Twitter
Carbon Origins started making robotic food deliveries to offices and residences in Minneapolis this week. The robots, named Skippy and also referred to as the "friendly neighbourhood robots", complete deliveries using a combination of artificial intelligence, machine learning, and operators called Skipsters who supervise and train them through a virtual reality interface. 
Skipsters can work from anywhere using any virtual reality headset. CES 2022 attendees got a chance to test drive Skippy during the show. 
Maicat by Macroact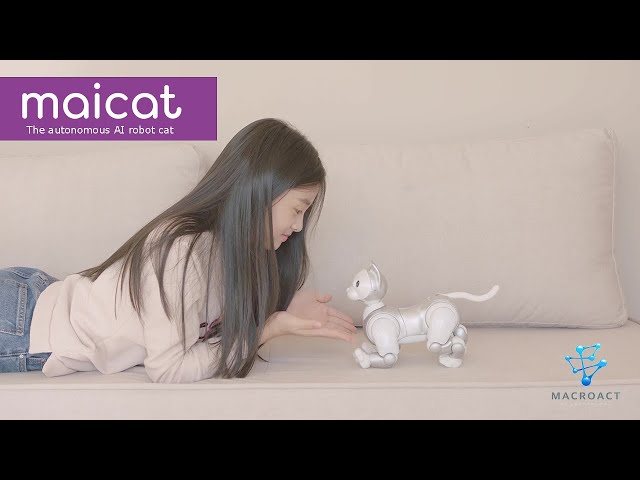 Robots come in all forms and sizes—even in the shape of a cat. Macroact's autonomous AI robot cat Maicat, known as an "AI companion", displays kitten-like traits and can use a variety of ways to express itself. 
Internal and external variables influence Maicat's mood and can drive surprising reactions. It comes with a camera, microphone and different sensors, and uses them to analyze and recognize its surrounding environment. Just like a real pet cat, it can recognize your face, and even differentiate between 10 people on its own, or up to 100 people when it is connected to the internet. 
An upcoming app will allow users to change Maicat's eye colour, tone of voice, and keep track of its virtual diet.
❮
❯