Our weekly roundup of worldwide technology news in pictures. This week: Apple's textbook-friendly iBooks 2, Wikipedia goes dark, former Nortel execs go on trial, and more.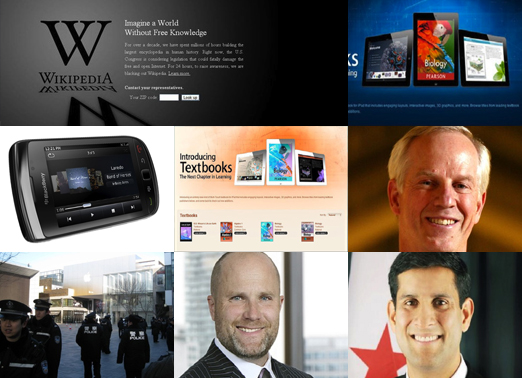 Tablets get schooled

Apple executives Phil Schiller and Roger Rosen introduced iBooks 2 at an education-themed event at the Guggenheim Museum. The app brings full-screen textbooks with interactive animations, diagrams, photos, and videos to students and teachers. New features include a revised index for easier search, page thumbnails, virtual study cards and new portrait and landscape views.
Going dark to stop SOPA

Wikipedia was among the many Internet-based companies to go dark to protest the Stop Online Piracy Act now before the U.S. legislature. Critics say the draconian law will stifle Internet innovation. Several U.S. legislators have pulled their support for the bill.
Nortel execs on trial

The prosecution's opening statement in the fraud trial of three Nortel executives – CEO Frank Dunn (pictured), CFO Douglas Beatty and controller Michael Gollogly – took two days to deliver. The prosecution said it will rely on "tens of thousands" of the four million relevant documents in the case. Defence lawyers called the allegations "preposterous."
BlackBerry users moving on

In a study of its users, gadget enthusiast site Drippler found that 75 per cent of current Blackberry owners plan to buy something that isn't a Blackberry to replace their current handset. The other 25 per cent remain staunchly loyal to Waterloo, Ont.-based Research in Motion.
Big data, big hires

Big data projects will drive thousands of Canadian IT hires and tablets will become as pervasive as light bulbs, according to a list of key tech predictions presented by Deloitte & Touche's Duncan Stewart.
Apple gets egged

Disgruntled customers egged an Apple store in Beijing when the retailer cancelled an iPhone 4S sale after they had lined up for hours. Police eventually quarantined the area.
First U.S. CIO joins Salesforce.com

Vivek Kundra, the first person ever appointed CIO of the Unites States, joinced Salesforce.com as vice-president of emerging markets, the CRM service provider announced.
❮
❯