Our weekly roundup of worldwide technology news in pictures, courtesy of IDG News Services. This week: Ellison rips Salesforce.com, monsoon season affects hard drive supply, McNealy's new startup, and more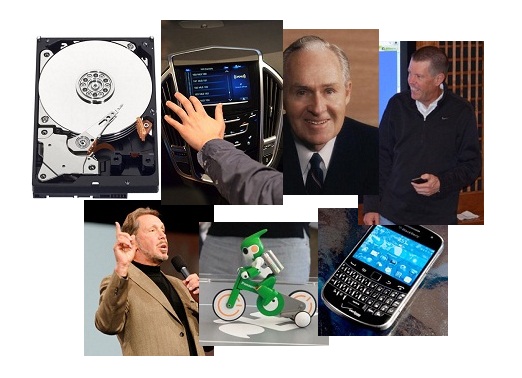 Monsoons in Thailand

Severe flooding halted hard disk production at Western Digital's manufacturing plant near Bangkok, Thailand. Officials are calling this year's monsoon season in the area the worst in decades.
A Cue from GM

Carmaker General Motors previewed the Cue touchscreen control system for its high-end Cadillac brand, featuring natural language processing voice commands and haptic feedback, at the CTIA mobile trade show. Does this square with hands-free driving laws? Just curious.
Ex-Motorola CEO passes at 89

In the 29 years Robert Galvin was CEO, Motorola created the radio that transmitted the first words from the moon to Earth, demonstrated and sold the first portable cell phones and made innovations in two-way radios, televisions and laser barcode scanners. He died at 89 last week.
McNealy's new startup

Former Sun Microsystems CEO Scott McNealy launched his social gaming startup, Wayln, from his Silicon Valley home. He also remarked that he would have accepted the CEO position at leadership-challenged Hewlett-Packard if he'd been offered it.
RIM apology

Research in Motion co-CEO Mike Lazaridis took to YouTube to apologize to users after worldwide outages brought down BlackBerry servers and services only days after renewed calls from minority investor Jaguar Financial for the company to be sold.
Ironbot

Evolta, a six-inch-tall, AA-battery-powered robot created for Panasonic, will take on the Ironman triathlon course at Kona on Oct. 23. He'll have a week to swim, bike and run 140 miles. Human contestants are allotted a 17-hour maximum for the race.
'Roach motel' of clouds

After cancelling Salesforce.com CEO Marc Benioff's keynote at OpenWorld, Oracle CEO Larry Ellison trashed Salesforce as the "roach motel" of clouds.
❮
❯