At MapleSEC 2023, Rushmi Hasham and Juliana Scharrer, the director and associate director of workforce training at the Rogers Cybersecure Catalyst, shared their work leading the "cyber talent transformation initiative."
This initiative, supported by the Future Skills Centre, allows the Catalyst to recruit, train and connect diverse Canadian talent to employers across the country. 
During the session, Hasham and Scharrer shared key findings of a two-year research project addressing the cybersecurity talent gap:
Half of Canadian cyber employers primarily hire through referrals, limiting the diversity of skills and global perspectives.

Employers report a need for skilled entry-level roles, but entry-level talent feel as though they're competing for only a few positions.

Many entry-level job postings did not reflect entry-level work, accounting for a severe disconnect between employer and candidate expectations.
These findings indicate that the development of cyber talent must be improved on both sides: employer and candidate. As candidates are being trained as professionals for the cyber talent pool, employers must build their finding, recruiting and retaining talent for their business.
With this need more present than ever, Hasham and Scharrer shared that the Rogers Cybersecure Catalyst created a Talent Management Playbook.
"We've gathered expert insights from industry, academia and government to guide organizations to address their immediate cybersecurity staffing requirement by equipping human resources professionals with hiring managers," Scharrer said.
Furthermore, on Thursday, Oct. 19, the Rogers Cybersecure Catalyst will be running a workshop based on the research in the management playbook that organizations can use to address their cybersecurity concerns and needs.
To read the Cyber Talent Management Playbook, download the PDF. Click here to view Hasham and Scharrer's full presentation.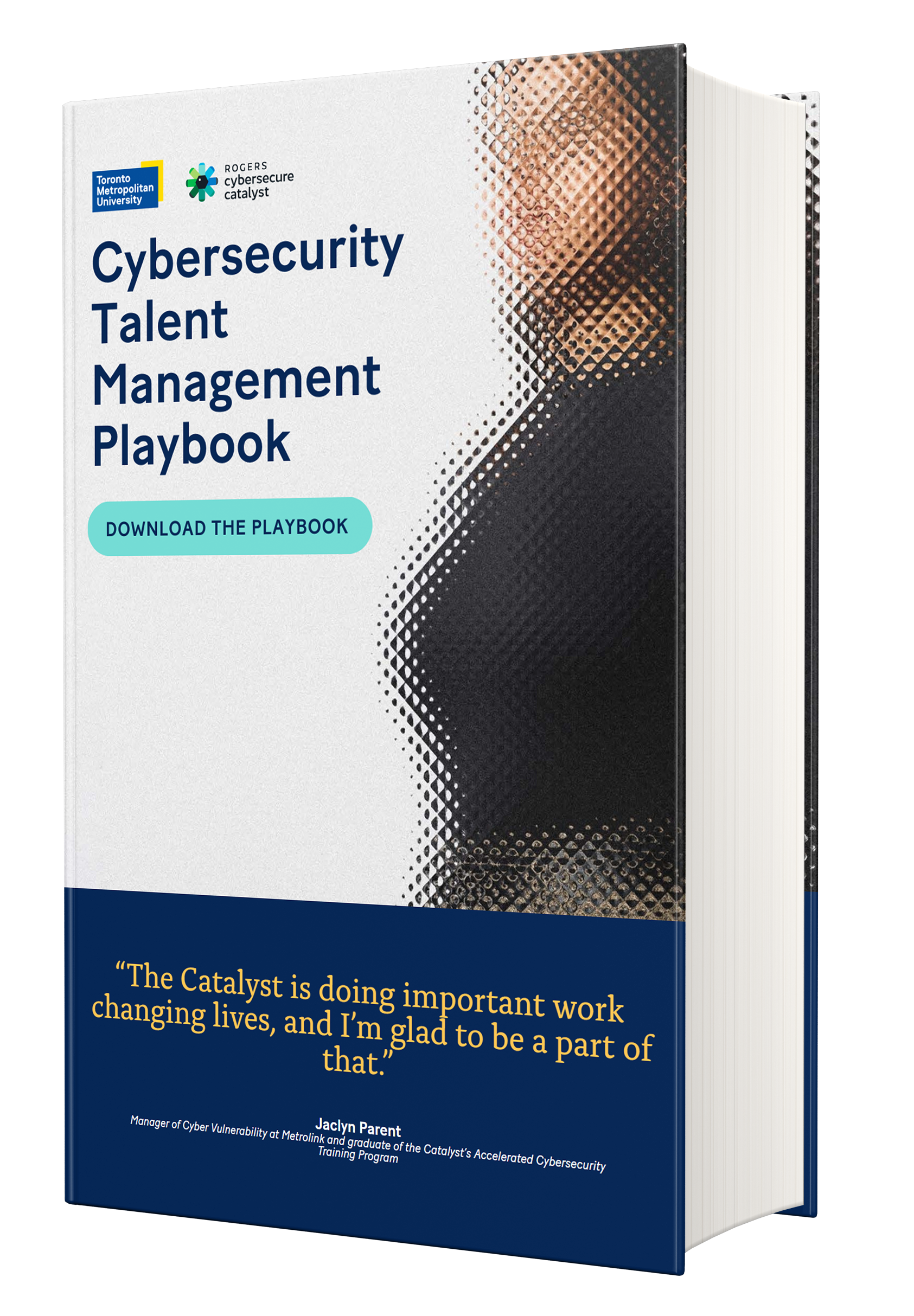 Cybersecurity Talent Management Playbook
The Cyber Talent Management Playbook gives HR professionals and hiring managers the practical tools to find — and keep — the cyber talent they need.
To download the playbook for free, visit: cybersecurecatalyst.ca/the-cybersecurity-talent-management-playbook/
Hire Our Cyber Talent
Is your organization currently seeking cyber professionals? Rogers Cybersecure Catalyst can help you meet your immediate hiring needs and build your talent pipeline — at no cost to you.
Visit cybersecurecatalyst.ca/hire-our-cyber-talent/ to learn more.