Top Insights from Canada's Top IT/IS Insiders
What are the initiatives and issues facing top IT leaders across Canada?
The CIO Census Report – developed in partnership between CanadianCIO and the CIO Association of Canada – aims to answer that by taking the pulse of Canada's CIO community.
The 2013 survey of 186 senior IT decision-makers from companies of all sizes and verticals, shares insights on the role that IT plays in Canadian organizations, innovation, outsourcing, IT investments and hosted infrastructure, and sheds light on the issues and priorities at the heart of the today's environments.
Read the CanadianCIO's CIO Census Report now to gain insights from Canada's top IT leaders. 

Featured Downloads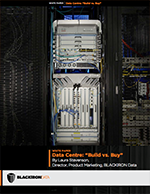 WHITE PAPER | Data Centre: "Build vs. Buy"
Making an informed "Build vs. Buy" decision requires a comprehensive and in-depth analysis of the costs, risks and opportunities associated with each option. This paper focuses on the cost aspect of the decision and offers a data centre Total cost of ownership (Tco) model …Download Now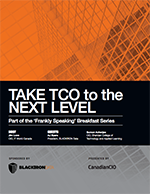 TAKE TCO to the NEXT LEVEL
How can CIOs take TCO beyond the 'necessary evil' of their IT budget and into a practice that contributes real and lasting value to their entire organization? Download Now 
The Security Responsibilities of the CIO in a Cloud Era: Ottawa Series
What are Ottawa CIOs saying about safeguarding data in the cloud era?
CanadianCIO magazine and IT leaders from 20 Canadian organizations met recently in Ottawa for an executive-level discussion exploring how to secure data, establish vendor relationships and ready their teams for success in today's era of cloud environments. Download Now
The Security Responsibilities of the CIO in a Cloud Era: Edmonton Series
CIOs in Alberta share their key security concerns around cloud environments.
CanadianCIO magazine and IT leaders from 20 Canadian organizations met recently in Edmonton for an executive-level discussion exploring how to secure data, establish vendor relationships and ready their teams for success in today's era of cloud environments. Download Now 
Related IT World Canada Content
MOBILITY
Tablet shipments leap 68 per cent: Gartner
Mobility 'great change driver,' OCAD U president says
Canadian health care lags in mobile adoption: IDC
Mobile devices are more than handsets
'Mobile first' no longer enough for CIOs: Deloitte
ANALYTICS
The big data governance challenge
5 qualities of a great analytics vendor
Don't do big data analytics alone, says expert
Video: Two Canadian IT execs talk big data
How retail is learning about BI from the NSA
CLOUD
PaaS poised for growth: Analysts
More career options for Linux developers seen
Chris Anderson: The democratization of manufacturing
Cloud book author issues a caution
Canadian enterprises slowly turning to cloud: Study
OUTSOURCING
RBC boss apologizes over outsourcing snafu
Cloud security tips from experts
Hold on to your big data experts: Gartner
GM 'insourcing' 10,000 IT jobs