#SASanalytics Twitter chat
Big data, high performance analytics, data visualizations – do these sound like they have any impact on your organization? Join us on Dec. 11 at 12:00 PM ET at the hashtag #SASanalytics for an hour-long Twitter chat sponsored by SAS Canada, revealing how analytics can help you make better business decisions.
Click here to learn more

Executive Profile Video Series


Big Data and the Payoff for your Business
Carl Farrell, Executive VP, SAS America's examines some of the challenges around big data and the effects on business.

Click here for more information on SAS Visual Analytics



Featured Analytics Articles on IT World Canada

Featured Download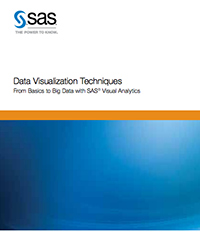 Data Visualization Techniques
From Basics to Big Data with SAS® Visual Analytics.