ITWC THIS WEEK VIDEO PLAYLIST Experts play hackers bent on industrial mayhem. Also, fans mourn Steve Jobs and we discuss Apple's future without him
Our weekly video roundup includes:
THE WIRE A group of experts from the Idaho National Laboratory play hackers bent on industrial destruction. With Kerry Davis, IDG News Service.
REMEMBERING STEVE JOBS At Apple Stores around the world, loyal customers paid tribute to Steve Jobs with makeshift shrines of flowers and apples.
THE ARGUMENT: APPLE AFTER JOBS In August, ComputerWorld Canada's Rafael Ruffolo and Jeff Jedras discussed Apple's future after Steve Jobs' resignation
Related Download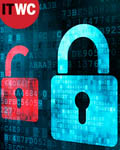 Sponsor: Cisco
Cisco Secure Mobility Knowledge Hub
This Knowledge Hub provides an end-to-end look at what it takes to discover, plan, and implement a successful Secure Mobility strategy.
Learn More