Humza Teherany may have made a change in his career, taking on the role of chief technology and digital officer for Maple Leaf Sports & Entertainment (MLSE) after being CEO of foodservices multinational Compass Group's digital labs, but he's still thinking about the best way for his customers to get food and drink in their hands.
The difference is that now, ordering a beer to your seat in Scotiabank Arena is just one aspect of the customer experience that he's considering as he looks at transforming how fans interact with Toronto's sports franchises – the Leafs, the Raptors, and TFC.
"We're going to upgrade the experience that you have from the time you walk in, to when you get to your seat," Teherany says, speaking to a small group in downtown Toronto. "The opportunity that sets us apart in Toronto is the talent and the people in this city."
The new MLSE digital boss joined the organization in June 2018. Also the president of the CIO Association of Canada, he's known for building a digital labs group at Compass. Now he's built the same engine within MLSE and is looking to use it to rebuild the fan experience from inside the stadium all the way out to digital interactions from places as far-flung as China.
Teherany says that sculpting a digital lab is about aligning digital strategy to business strategy, and using it to supercharge the speed that business can accomplish its goals. He seeks to foster a culture of innovation, where employees think about what's possible, creating the tools to deliver new experiences, and are willing to fail.
Rather than have MLSE's IT operations split up across several groups, he's restructured them into one 100-person team. It partners with other business groups internally to work on projects – none longer than 90 days – and is flexible enough to collaborate with external partners too.
"The digital lab is intended really to put everybody together to be able to do that full end-to-end, so you don't have a hundred hand-offs, with an IT group, going to a digital group, going to others," he says. "We have to sit and understand where our business partners want to take the business and then we have to react and adjust and drive towards those goals."
MLSE remodeled its offices inside Scotiabank Arena to create a digital labs floor. It also sees team members co-located in the front offices of the Raptors, Leafs, and TFC to help them work with new technology.
"The goal of creating the best sports and entertainment digital experience in the world is a unifying statement," Teherany says. "When you get a bunch of talented people to bring something to life, it's a really special thing."
Mobile apps play a role for fan experience whether in the stands or on the couch
Since Teherany joined MLSE just eight months ago, the organization has relaunched its mobile apps for the Raptors and Maple Leafs and is working on a new app for TFC as well. The mobile apps are built on Pittsburgh-based Yinzcam, which is designated as the NBA's official team app and arena mobile app developer. Its team clients also include the Cleveland Cavaliers, the Golden State Warriors, and the Pittsburgh Penguins.
MLSE also took a product management approach, looking at each mobile app as its own product, hiring new people and expanding the roles of others to work on the development.
"Starting from the concept of digital apps and what we could do, we took a long look at what was happening in the business and all the things we wanted to achieve," Teherany says. "It was obvious to me we had a great opportunity to expand our fan base and to make experiences richer for the existing fan."
MLSE used its initial foray into mobile apps to learn about their audience, Teherany says, and the new push is focused on providing mobile app users more ways to interact and to transact. The app plays different roles for those watching the game in the arena, or following along at home.
For those heading to Scotiabank Arena, there's no longer a need to print tickets at home. Tickets are bought and loaded into the app, and mobile screens are scanned to gain entry. From there, fans can order food and drinks directly to their seats – or even an official jersey with their favourite players' name on the back.
For those at home, statistics about the game are generated in real-time as a play-by-play description of the game provides a second-screen experience to watching the broadcast. There's a schedule of home and away games and ample content to explore, from official podcasts to post-game video interviews and highlights.
"I think this has created a huge upswing in how often people are using our apps now, and our user base has gone up as a result," Teherany says. "Where we're headed with the apps is as a platform for our fans anywhere in the world, to not only interact with us but to interact with each other."
Expect to see more exclusive content coming to the apps, he says, along with even more rich analytics and statistics about the teams.
"Now when you're interacting with the Raptors or the Leafs or TFC, you go to the app first," he says. "You don't have to go to 12 places to figure it out. Our mission is to give you that single place at the centre of the whole experience."
So far the effort has resulted in a big off-court win for the Raptors. It has the biggest mobile user base in the NBA, according to Teherany. That's based on data reported by Yinzcam and provided to its clients, he says.
Pushing into a new digital realm with eSports
An all too familiar scenario for Raptors fans unfolded with a new spin on Aug. 17, 2018 as the Raptors were eliminated from the playoffs by the Cleveland Cavaliers. Not to be confused with the four-game sweep of the Raptors the Cavaliers accomplished in the Spring, this stinging defeat took place in the video game NBA 2K.
Last year saw the inaugural season of this eSports league, half-owned by the NBA and half-owned by videogame maker Take-Two Interactive. Raptors Uprising Gaming Club was one of 17 teams to compete in the 2018 season. The 2019 season will see 21 teams draft new players on March 4.
In his role at MLSE, Teherany oversees the growing eSports initiative. Not only is it another opportunity for the Raptors to finally beat the Cavaliers in the playoffs, but as Teherany sees it, another way to tap into a new international fan base.
"In China, there's 35 million active NBA 2K players," he says. "There are people from everywhere that are spending hours online playing video games."
And that's a fan base that may be interested in the Raptors. Teherany points to a chatroom on Chinese social networking platform Weibo that's dedicated to the team and has 4 million users.
Not only does MLSE pay the eSports professionals it drafted for the team, it houses them all in the Bell Fibe House in Toronto. A Youtube video tour of the home showcases a huge space packed with Xboxes, high-end gaming chairs, large-screen TVs in almost every room, a ping-pong table, and a massive backyard deck with a built-in hot tub.
The team can run full 5-on-5 scrimmages by pulling up to a power table rigged up with five playing spots on either side. And MLSE flys the team to New York once per week for competitive events.
While NBA 2K league is the deepest involvement MLSE has in eSports, the activities do extend beyond basketball. Last October, the Toronto Maple Leafs and WorldGaming Network launched Leafs Gaming League, a competitive league for players of EA Sports NHL 19. MLSE also sponsors Phil Balke, a popular Canadian eSports competitor, to play EA Sports FIFA 18 competitively.
"These are non-traditional areas that fans are now existing, interacting directly with our brands," Teherany says. "So we want to reach out and we want to connect. We want to bring those fans close to our teams and give them the access and the content that they're craving."
The Scotiabank Arena experience and the future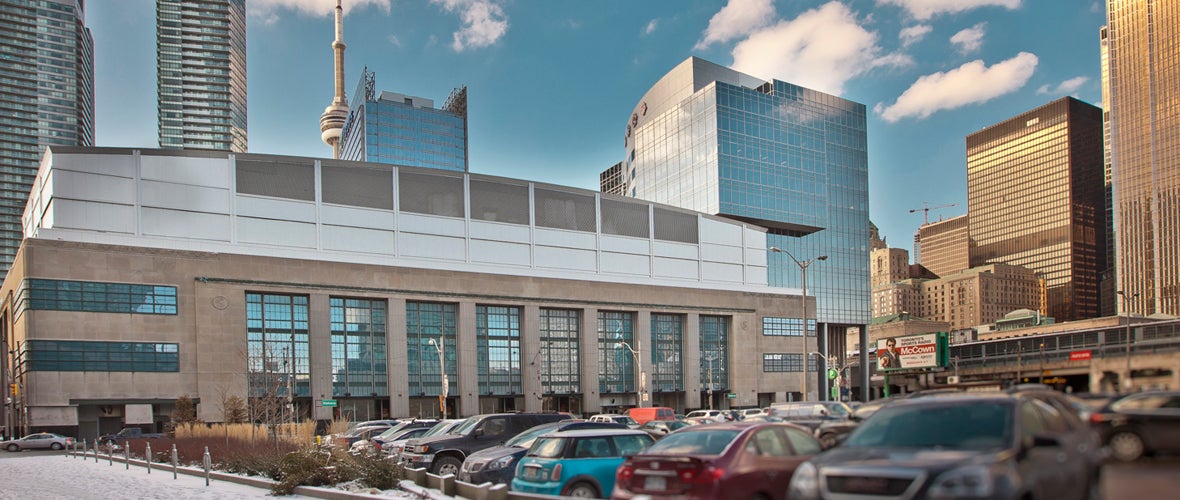 Aside from fans using mobile apps to get food, drinks, and merchandise delivered to their seats in Scotiabank Arena (and later this year at BMO Field as well), Teherany is seeking other ways to enhance the stadium experience with technology. The VIP suites are one area that hasn't changed much for the past 10 years with technology, and could be seeing some updates.
"The piloting portion of that is really important," he says. "We're not ripping out a whole bunch of things. We're being very thoughtful about standing stuff up and piloting things, getting user feedback."
The MLSE CIO is looking externally for inspiration as well, partnering with Ryerson University's Future of Sport Lab. The incubator announced its first six startups that will receive guidance from Ryerson's incubation engine, and have MLSE as a potential platform to test out their products.
The startups include New York City-based Spalk, a virtual sportscasting studio that provides hundreds of different commentary options on live sports broadcasts. Toronto-based Performance Phenomics delivers brain imaging assessments to managers, coaches, and athletes that provide insight into performance and recovery from injury.
Teherany also has his eye on other cutting edge technologies, thinking about how they could help improve customer experience around the MLSE brand. Blockchain might play a role in the ecommerce business, he says, and voice experiences could be the next frontier of interface for fans.
It's all connected back to his new, agile team that's ready to tackle projects the business prioritizes.
"We've built the first digital lab in professional sports," he says. "For us to continue to tell our story about what we're doing in Canada and globally means we'll be able to attract the best talent."